Three Norfolk men jailed for £1m telecoms fraud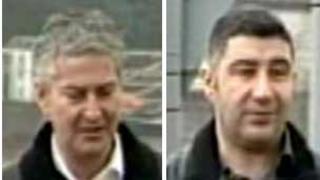 Three men have been jailed for their part in a £1m telecoms fraud, said to be one of the biggest in Britain.
Great Yarmouth-based Business Telecom conned companies, schools and charities out of hundreds of thousands of pounds.
Christopher Boughton-Fox, 48, of Yarmouth Road, Norwich, received seven years and Jonathan Parrish, 42, of The Hills, Reedham five-and-a-half.
Neil Debenham, 28, of Filby, near Great Yarmouth was also jailed for three years at Ipswich Crown Court.
'Cashback scheme'
Smooth-talking salesmen from the firm would persuade customers to sign contracts for new telephone systems, the court heard.
Although they were told a cashback scheme meant the phones were free, businesses were in fact signing up for expensive leasing agreements typically costing between £10,000 and £35,000 over seven or more years.
Company chairman Boughton-Fox and sales director Parrish had denied conspiracy to defraud but were convicted by a jury.
Debenham, a senior salesman, had admitted the charge.
Judge Peter Thompson described Boughton-Fox as the "architect of the fraud" and said his sentence reflected the fact that he had never admitted his guilt.
Top salesman
The court heard Parrish had a long history of dishonesty and previous convictions.
The jury at the 10-week trial had been told Business Telecom had grown from a small home-run company to one with a turnover of £4.5m.
Boughton-Fox had an annual salary of £600,000 while Parrish, twice named the company's salesman of the year, could earn up to £40,000 a month.
Norfolk charity Musical Keys, which runs therapy sessions for disabled children, was among the victims of the fraud.
About 40 schools in Norfolk, Suffolk, Essex and Kent, were also conned.
David Collinson, head of public protection at Norfolk County Council, which brought the prosecution, said: "I am pleased with the sentences handed down by the court today, which reflect the serious nature of the fraud that was being carried out in the name of Business Telecom.
"Small to medium-sized businesses and organisations were the prey of these individuals and after being misled about what they were entering into they were left tied into expensive and lengthy lease agreements - leaving some with real financial difficulties."