Aston Villa manager Gerard Houllier in hospital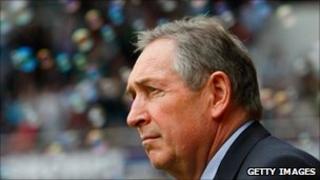 Aston Villa manager Gerard Houllier has been admitted to hospital, the club has confirmed.
The 63-year-old was taken to hospital in Birmingham overnight.
He has spoken to the club's chief executive Paul Faulkner and his condition is said to be comfortable.
Assistant manager Gary McAllister will take Thursday's training session. Houllier has thanked supporters for their concern.
He is expected to remain in hospital for several days and is undergoing tests.
'Big shock'
McAllister will take charge of the team on Saturday for their game against Stoke at Villa Park.
Villa striker Darren Bent said: "Obviously everyone in the squad wishes that Gerard has a speedy recovery and that he is back soon, but yeah it was a big shock to all the players.
"But the main thing is his health and that he gets that right and hopefully he will be back soon."
Mr Faulkner said Houllier had sounded "positive" when he spoke to him.
He said: "I've also received a lot of good wishes from fans and I would like to thank them for their kind thoughts in wishing Gerard a speedy recovery.
"I will see him this afternoon, along with Gary, and we will pass on the fans' messages.
"I know they will mean a lot to him. We would ask everybody to respect his privacy and that of his family at this time."
Houllier had major surgery after suffering heart-related problems in 2001 when he was manager of Liverpool FC.
'Healthier and fitter'
Current Liverpool manager Kenny Dalglish said: "Like everyone, his health is more important than anything else.
"We wish him well and I'm sure he is in the best possible hands."
Houllier arrived at Villa Park in September to succeed Martin O'Neill.
When he took the position Houllier revealed he had consulted his heart surgeon before accepting the job.
He said he had returned to speak to Dr Abbas Rashid, the man who led the team who performed his 11-hour operation, and was given a clean bill of health.
"When you go into a job you know there will be pressure, that it will be hard work and you won't sleep every night," he said at the time.
"You need to make sure your body is ready. I have checked that. I am much healthier and fitter now than I was before."
Villa have been hovering around the relegation zone in recent weeks, although they have won their past two matches and the club previously said Houllier had their "total support" as he attempts to guide them to Premier League safety.