Twitter 'opens up magistrates' court to the public'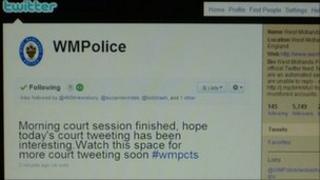 Almost all criminal court cases in England and Wales begin in magistrates' court.
From murder charges to council tax evasion, it is the first stop for cases on their way to trial, plea or a referral to a higher court.
But while high-profile cases might receive press attention, many court workers believe the work of the magistrates is overlooked.
Police claim Twitter could now fill that gap by enabling the public to step virtually inside the magistrates' courts and see what goes on before the Justices of the Peace.
To try to open up the court process, on Tuesday morning the police started tweeting about all the cases that are dealt with in a typical morning at Birmingham Magistrates' Court.
A team of five staff from the force's media and communications department were sitting in courts and then fed their copy to two further members of staff who used laptops and mobile phones in the court's police room.
If successful they may carry out further "twitterthons" at magistrates' courts in Dudley and Coventry.
Billy Corrigan, communications manager for West Midlands Police, said he believed police tweets could help fill a space left by a decline in court reporters.
He said: "An awful lot of reports demonstrate that the public want to know what goes on at court.
"They know about the big cases which get press attention but they want to know what happens with crimes such as shoplifting and assault which the press can't send journalists to and which therefore go unreported.
"Anything that allows greater information for the public is good because they pay for this service."
Birmingham Magistrates' Court is a Grade I-listed Victorian courthouse. Desks still contain ink-wells and the clerks wear traditional black gowns as they walk around from court to court transporting court files for cases.
But social networking has now entered this very traditional domain.
In Court One the district judge deals with a range of cases from shoplifting to council tax evasion.
In one morning a 29-year-old pregnant woman with a drug problem from Stechford is sentenced to eight weeks in jail for shoplifting mascara and aftershave from a supermarket and assault by spitting at a bus driver.
A 44-year-old man also appears in court charged with owing more than £5,000 in council tax.
The man claims the council tax bill is for a house he rented out to a tenant and so the case is adjourned to allow him to talk to the council to try to sort out the confusion.
Both cases are tweeted within minutes of the defendants' moment in court.
Last year, the Lord Chief Justice issued interim guidance on "the use of live text-based forms of communication (including Twitter) from court for the purposes of fair and accurate reporting".
It is something District judge Jack McGarva is well aware of.
He said he welcomed the use of Twitter in court as long as it did not harm a case by breaking contempt law.
He said he had noticed a decline in the number of journalists at court in recent years.
"I've sat all over the country and it (the number of reporters at court) does vary," he said.
"In a small town the press is more present than in a city like Birmingham where it is quite unusual to see reporters.
"Hopefully what the police are doing on Twitter will improve public confidence, often they see a result but they aren't clear why it's happened."
Chris Morley, a former Birmingham Mail reporter, who now represents journalists in the North West and the Midlands for the National Union of Journalists, said he had seen the decline in court reporters himself.
He said when he joined the Mail in 1982 the newspaper's court reporting unit was made up of four senior reporters and two trainees.
"By the time I left in 2007 there was one court reporter for the Birmingham Post and the Mail, it was a combined job," he said.
"The Twitter feed highlights the weakness of local journalism because of the cutbacks there's been in the newsroom.
"The ideal is for trained journalists to report from court as part of the judicial process.
"It's not just about the charge and sentence, it's about the story that goes with the case."
Mr Corrigan said he believed the West Midlands Twitter project would be successful, holding up the evidence that in one morning they had acquired 150 new followers to the Twitter feed.
Gesturing to the empty public gallery he added: "The public aren't here but this is a public building, if Twitter opens it to them then that's great."