Family of Kevin Lavelle loses 'dumbbell' legal bid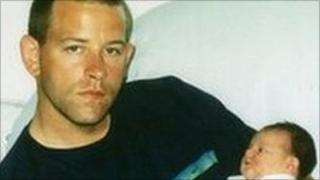 The family of a man who died in a pub fight after being attacked with an iron dumbbell have lost their latest legal bid to find his killer.
Kevin Lavelle, 29, of Bootle, Merseyside, was fatally injured in Banbury, Oxfordshire, in June 2004.
The Court of Appeal ruled there could be no new civil claim for damages after it was argued the original hearing had various procedural shortcomings.
Ceri Noble, of Rhondda, south Wales, was acquitted of murder in 2006.
'Serious injustice'
An inquest into the crane driver's death in March 2009 ended with a verdict of unlawful killing.
In 2010, a judge at Oxford County Court dismissed a civil damages claim against Mr Noble and fellow railway contract workers Philip Lawless and Leslie Gibbs - who all denied responsibility for Mr Lavelle's death.
Last month, the family's counsel, Mark James, conceded there were "various procedural shortcomings" on the part of the family's lawyers in the county court but challenged rulings by the judge which excluded evidence relating to DNA analysis and that of a witness.
It was not disputed that the judge was right to dismiss the claim upon the evidence which remained following the rulings.
Augustus Ullstein QC, for Mr Noble, Mr Lawless and Mr Gibbs, told the appeal judges that while the family no doubt felt aggrieved that nobody had been convicted and had been badly served by their legal team, to allow them "a second bite of the cherry" would create serious injustice.
Lord Justice Hooper, sitting with Lord Justice Pill and Lord Justice Munby, said the failure of the family's legal team to take the necessary procedural steps before the start of the county court trial to be able to rely on DNA evidence at the hearing was "shocking".
Professional bodies
"That said, there is nothing that this court can now do," he said.
"The judge was entitled to rule as he did.
"Indeed it may have been the only ruling that he could have given short of adjourning the trial, which he was not asked to do."
Dismissing the appeal, he said that he was sufficiently concerned about the handling of the county court trial by those representing the family that he would invite the professional bodies of those responsible to examine it.