Morris dancers hold May Day bank holiday plan protest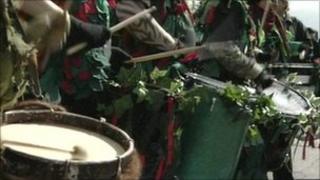 Morris dancers from Sussex and around England have held a protest in central London calling for the May Day bank holiday to be retained.
The group, including May queens and hobby horses, met opposite parliament before handing a petition to the tourism minister.
In March ministers outlined plans to move the holiday to April or October.
Keith Leech, chairman of Hastings Jack in the Green festival, said the holiday gave a local economy a real boost.
Minister for Tourism John Penrose said the government's proposal would lengthen the tourist season.
More than 3,000 people have signed the petition, which is supported by Hastings Conservative MP Amber Rudd.
She joined the group in Westminster at about 1400 BST to present the document to the Mr Penrose.
Mr Leech said: "The campaign started in Hastings where the May Day holiday is celebrated in style.
"The traditional Jack in the Green is paraded around the streets with about 600 dancers, giants and other characters.
"Over the past thirty years it has grown to be one of the premier must-see events in England and attracts visitors from around the world.
"The Bank Holiday also sees thousands of bikers descend on Hastings for the annual bikers rally.
"Local businesses see it as a real boost after a long hard winter and many say they would not survive without it."
He said people from May Day celebrations around England would also take part in a parade in London on Monday afternoon.
'Attract more visitors'
"Many towns have used the holiday to put on similar events including Rochester, Bristol, Ilfracombe and Whitstable with Jack in the Green celebrations, each of these brings many millions into the economy of these towns."
The plan to scrap the May Day bank holiday is part of the the Department of Culture, Media and Sport's (DCMS) tourism policy.
Under the proposals, the holiday would be moved to St George's Day in April in England and St David's Day in March in Wales, or a Trafalgar Day in October.
It is hoped it would lengthen the tourist season and attract more visitors to the UK.
The DCMS said it was consulting on the plans.