WWI postcard found in Cambridgeshire returned to family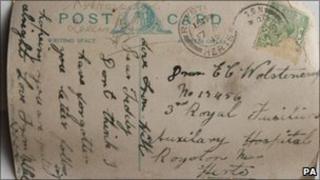 A postcard lost by a World War I soldier being treated in a village hall hospital has been returned to relatives.
Carpenters Alan Payne and Jason Grant found Private Edward Wolstencroft's card in December while working in the hall at Shepreth, Cambridgeshire.
Amateur genealogist Chris East located the man's nephew, Paul Wolstencroft, in Hertford Heath, Hertfordshire.
He was presented with the card during a special exhibition in Shepreth.
The card was handed over to Mr Wolstencroft, who is in his 60s, by villager Eve Hardman, 82, whose grandmother Flora Pearce was a nurse at the hospital.
Special exhibition
Records show that the hall, built in 1910, was used as a military hospital between 1915 and 1919.
The card, sent by Pte Wolstencroft's sister, Nellie, and postmarked 17 April 1915 was found behind a wooden wall panel as Mr Payne and Mr Grant fixed floorboards.
Villagers think that it slipped behind the panel after Pte Wolstencroft placed it on a shelf.
The postcard, which contained spelling errors, reads: "Dear Teddy, Don't think I have forgotten you letter following hopeing you are quite alright love from Nellie xxxx."
It is believed that Pte Wolstencroft, who came from Edmonton, north London, was treated at the hospital in Shepreth in 1915, before returning to active duty in France.
Research revealed that he died on 7 July 1916 during the Battle of the Somme when he was in his mid-20s.
He is remembered on the war memorial dedicated to missing World War I soldiers at Thiepval in the Picardy region of France.