Hinkley Point B to trial new nuclear shutdown system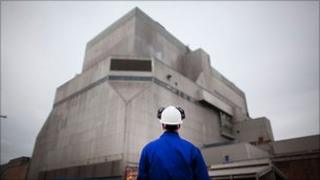 A new emergency shutdown system will be trialled at one of Britain's oldest nuclear power stations this summer.
It will bring Hinkley Point B "towards modern standards," according to the Office for Nuclear Regulation's (ONR) site inspector, John Burrows.
But anti-nuclear campaigners say the plant's owners and the regulators have rejected a "fail-safe" solution already installed at other UK power plants.
EDF Energy says the power station is well built and rigorously maintained.
Engineers have been keeping a close watch on the Hinkley reactors since cracks were discovered in the graphite core.
The power station's two reactors can be shut down by inserting control rods, or injecting nitrogen gas, to halt the nuclear reaction.
The new system involves a redesign of the control rods and an updated nitrogen gas injection system.
Anti-nuclear group Stop Hinkley says the plant should have a further safety system, like other British reactors, in case the rods cannot be inserted.
Other British reactors have a system of beads, made from the element boron, that can be injected to shut down a reactor in an emergency.
"We're constantly raising our standards to make sure we're operating at the safest possible level," said Hinkley station manager Mike Harrison.
But Jim Duffy, of Stop Hinkley, said that despite a series of Freedom of Information inquiries, the nuclear regulators had never fully explained why the Somerset plant and its twin at Hunterston in Scotland are the only Advanced Gas Cooled Reactors (AGRs) not to have the boron system.
He said: "You normally have three safety systems… the control rods, the nitrogen and boron. And the boron is the fail-safe basically.
"But at Hinkley they haven't got that option. There is no boron capacity there.
"What they said was that the safety case for each nuclear reactor is made on its own merits. Well that doesn't answer the question.
"There are safer systems on the newer reactors and less safe systems on the older reactors, which are also by nature, more fragile. It doesn't add up."
Managers at the plant say they have an alternative third safety system that involves pumping water into the reactor.
Mr Burrows said: "We had meetings with [the] British Energy [division of EDF Energy] and they decided that a reasonable and practical improvement would be to design a new type of articulated [control] rod, which would be different to the rods that are already in, and provide some diversity and bring the station towards modern standards.
"It was considered that this was a reasonably practicable alternative given the lifetime expectancy of the plant."
The new articulated rod was designed to be flexible enough to insert into the reactor core even if had been distorted by an earthquake, he added.
Hinkley Point B came into service in 1976 with an expected lifespan of 30 years. Its working life has already been extended to 2016, and EDF Energy has signalled plans to keep it going for five years beyond that date.
The Report will be broadcast on Thursday 21 April at 2000 BST on BBC Radio 4. You can listen again via the iPlayer or download the podcast.