Halifax Piece Hall £16m revamp plans are considered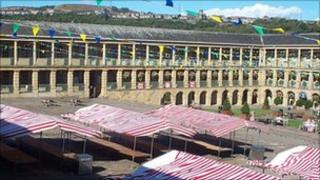 Plans for a £16m facelift at Halifax's landmark Piece Hall will be considered later by Calderdale Council.
The council is putting together a bid for Heritage Lottery funding so the 230-year-old cloth hall can undergo conservation work.
It is hoped the restoration work will lead to a boost in visitor numbers and attract new businesses.
The council said, if the bid is successful, the Piece Hall project would be completed in 2014.
'Sustainable future'
Robin Tuddenham, the council's director of communities, said the aim was to make the Piece Hall commercially sustainable while maintaining its links to Halifax's history.
"It really is transformational but it also builds a sustainable future for the Piece Hall," he said.
Opening in 1779 as a marketplace for Halifax's cloth trade, the council-owned Piece Hall now plays host to shops, cafes and an art gallery.
Andrew Griffin, owner of the Cappuccino Cafe at the Piece Hall, said he welcomed the plans.
"You only have to look around at what a beautiful building it is, but the infrastructure does need some work," he said.
But John Hoyle, who runs the Friendly Dragon shop, which sells pagan artefacts, said he was worried.
"Although the council wants to make it an Italian piazza, lots of people think Halifax is a northern post-industrial town and that setting needs to continue," he said.
Calderdale Council said a public consultation would be held when new designs for the Piece Hall were completed.