South West lamb and beef could gain protected status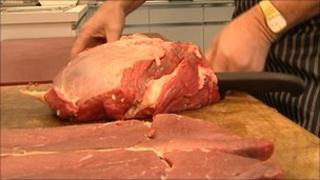 Beef and lamb from the South West could soon gain the same protected status as the Cornish pasty.
Meat South West first applied for the Protected Geographical Indication (PGI) status eight years ago.
PGI status covers agricultural products and foodstuffs closely linked to the geographical area.
The Department for Environment, Food and Rural Affairs said it was optimistic South West meat would get the status by the end of 2011.
Beef and lamb produced in Scotland and Wales have already been given the European Commission's PGI status.
Born and bred
Other protected UK foods include Cumberland sausage, Cornish sardines, Stilton cheese and Whitstable oysters.
Farmers in Devon and Cornwall claim beef and lamb reared in the South West tastes better because of a grass fed diet.
They are hopeful PGI will result in higher export prices and better sales.
Martin Howlett, who farms in east Cornwall, said: "A PGI for West Country beef and lamb would mean a tremendous amount to producers here.
"The fact we have quality products from beef and sheep farms is being recognised at long last."
Farmers will have to meet set criteria before they can use the PGI symbol on their packaging.
"It doesn't have to be a native breed, but it has to be born, bred, reared and predominantly grass fed within the greater South West," Ian Johnson from the National Farmers' Union said.
The region's application for PGI status will be considered by the European Commission later in the year.