Sian O'Callaghan police identify Eastleach body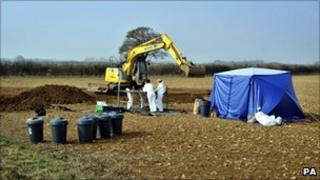 Police investigating the death of Sian O'Callaghan have identified a woman whose remains were found after police searched a field in Gloucestershire.
Police said they would not name her until all of her family has been told.
Officers started searching the site at Eastleach in Gloucestershire on 25 March and discovered her body the following morning.
Taxi driver Christopher Halliwell, 47, from Swindon, has been charged with 22-year-old Miss O'Callaghan's murder.
Det Supt Steve Fulcher, of Wiltshire Police, said they had positively identified the remains of the woman early on Monday.
"We've identified the victim through DNA with a probability approaching one in a billion so we're confident we've identified the victim of that crime, a young woman from the Swindon area," he said.
"I've informed some of her family, particularly her mother, but it's too early at this stage to formally identify her publicly."
A pathologist is still working to determine a cause of death.
Officers have previously said the remains are thought to be those of a woman aged between 23 and 30 who was taken from the Swindon area between 2003 and 2005.
Miss O'Callaghan's body was found near Uffington, Oxfordshire, following her disappearance after leaving the town's Suju nightclub on 19 March.
Mr Halliwell, of Ashbury Avenue, is in custody after being charged with her murder and will appear via video link at Bristol Crown Court on 8 April.