Abused circus elephant Anne moved to Longleat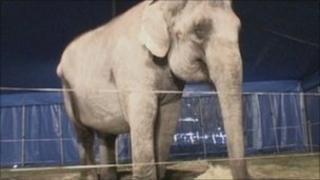 A circus elephant who was secretly filmed being abused by her groom has been moved to a safari park.
The 57-year-old Asian elephant, named Anne, was filmed being kicked and struck with a pitchfork by an employee of Bobby Roberts Super Circus.
Animal Defenders International (ADI) who conducted the filming, supervised Anne's transfer to Longleat Safari Park in Wiltshire on Sunday.
The animal will be kept under a 24-hour watch by three keepers at Longleat.
Tim Phillips, campaigns director for ADI, said: "Without doubt it is the worldwide outpouring of public horror that has forced the circus to hand over this elephant.
"Everyone is overjoyed that Anne is safe and we shall look forward to her having a bright future in her final years.
"Longleat is a place of safety for her while she is assessed on whether she should move somewhere where she will have more contact with other elephants."
He said the elephant, which suffers from severe arthritis, was "stressed and traumatised" by her treatment but was otherwise unharmed.
ADI filmed footage of the attack on Anne in a barn in Northamptonshire earlier in the year.
Bobby Roberts Super Circus earlier said the groom no longer worked for the company and was believed to have returned to his native Romania.
Last week, a demonstration was held outside the circus ahead of a performance in Knutsford, Cheshire.
ADI said it was consulting lawyers to discuss the possibility of bringing a private prosecution against the circus.