Lincoln tops the list for business growth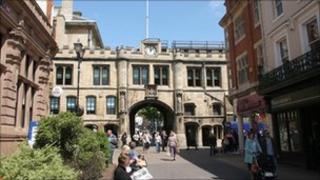 Lincoln has been named as the UK's number one hotspot for business growth, a new study has found.
The Royal Mail report found there had been a 2% increase in the number of companies trading in Lincoln in recent months, taking the total to 8,000.
The study revealed more than 100 new firms had started in the city in the past six months.
Swansea was second in the business growth league, followed by Sunderland and Durham, according to the report.
Four of the top 10 cities attracting new businesses were in the North East, suggesting a switch form public sector employment to new firms.
Stephen Agar, of Royal Mail said: "It is encouraging to see how certain areas are experiencing focused and localised growth.
"We expect this trend to become even more evident over the coming months as businesses new to an area start to use the services of local suppliers."