Creswell Crags cave art site gets cash boost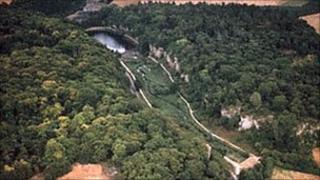 Ice Age cave art site Creswell Crags is to be given a £38,000 boost from Derbyshire County Council.
The prehistoric attraction on the border of Nottinghamshire and Derbyshire has also been nominated as a World Heritage Site.
Creswell Crags, a series of limestone caves occupied between 50,000 and 10,000 years ago, has produced numerous tools and unique rock art.
A site spokesman said the money will be used to help run its visitor centre.
The site is recognised as an important European place of cultural, archaeological and scientific interest.