Southern Water meter scheme reaches 10,000 target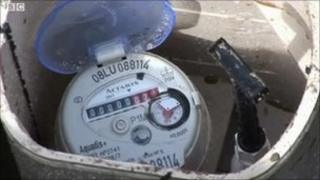 Ten thousand water meters have been fitted across south-east England as a water company installs 500,000 devices over five years.
Southern Water said its programme had reached its first 10,000 target and a further 12,000 customers had requested meters ahead of their scheduled date.
The South East has been identified as an area under severe water stress where compulsory meters can be fitted.
Meters are being installed in Sussex, Kent, Hampshire and the Isle of Wight.
The new automatic meters include a leak alarm and can be read remotely with drive-by technology.
Director of metering, Darren Bentham, said reaching this stage in the water metering programme was "a significant step forward" in long-term plans to secure water resources for the region.
He added: "The majority of our customers agree that it is fairer for households to pay for the water they use.
"Metering not only puts people in charge of their bills, it also plays a key role in protecting our environment for future generations."
The meters are being installed on a street-by-street basis.