Closure from Derrick Bird killings 'unrealistic'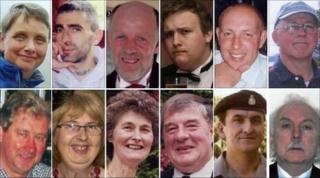 The end of the inquest into the victims of Cumbrian gunman Derrick Bird will do little to bring closure to those involved, a churchman has said.
The Reverend John Bannister has been close to many of those affected as rector of Whitehaven.
He said it was still "far too early" for families to draw a line under what happened on 2 June last year.
Verdicts of unlawful killing were returned on Bird's 12 victims and one of suicide on the killer himself.
The four-week hearing in Workington, which ended on Friday, heard details of the shootings and evidence about Bird's state of mind in the run-up to the day.
The deaths were examined in chronological order, with more than 70 witnesses giving evidence.
A full report into how Cumbria Police responded to the shootings is to be made public later.
Mr Bannister said: "The inquest has brought back to the surface many of the original emotions of horror and shock about what happened.
"There are still deep effects being felt by the community.
"But of course for the families of those who were killed it is still very early days and to think that the inquest can draw a line under that experience is quite unrealistic."
Mr Bannister also said a number of children of the families of those involved were still receiving counselling and other "quite specific" specialist help.
But he said there was a "stoicism and resilience" which was helping the wider community to get on with their lives.
He said: There is a determination not to allow this incident to define the community of west Cumbria."