Sian O'Callaghan: Police seek body of missing adult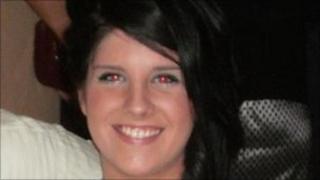 Detectives investigating the murder of Sian O'Callaghan are searching for the body of another person who went missing "several years ago".
Miss O'Callaghan, 22, had not been seen since leaving a nightclub in Swindon early on Saturday morning.
Her body was found on Thursday in Oxfordshire after her suspected killer guided detectives to the spot.
The man also took officers to an area near Eastleach, Gloucestershire, where officers are searching for a body.
On Friday afternoon magistrates in Swindon granted police an extra 24 hours to question a 47-year-old man.
He remains in custody at Gablecross police station in Swindon.
The suspect, named locally as taxi driver Christopher Halliwell, was arrested at a supermarket on suspicion of kidnap and two murders on Thursday morning.
Det Supt Steve Fulcher, of Wiltshire Police, said he was taken to locations near Uffington and Eastleach by the suspect.
Police are using mechanical diggers to excavate the corner of a field near the Oxfordshire-Gloucestershire border in their hunt for a second body.
They have removed part of a dry stone wall and excavated two trenches in the corner of the field, where officers in protective clothing could be seen on their hands and knees in the mud.
Det Ch Insp Sean Memory, who is leading the search at that site, said officers had received "relatively specific" information from a man held in connection with Miss O'Callaghan's death but that no remains had yet been found.
"We were given some indication of where there might be a find. Of course, it isn't as simple as that. It was tricky last night in the dark.
"We will use as much light as we can and then decide what we will do when it gets dark."
Det Supt Fulcher said it was believed the second body was of an adult who went missing several years ago.
'Trademark smile'
He added: "Wiltshire only has one outstanding missing adult and that's from several years ago."
The detective said post-mortem tests were being carried out on Miss O'Callaghan's body.
He added: "This is a tragic situation, I have spoken to the family... our thoughts are with Sian and her family."
The office administrator was caught on CCTV cameras in the early hours of Saturday leaving the Suju nightclub, in Swindon's Old Town area, after an evening out with friends.
Floral tributes, messages, teddy bears and a large number of scented candles have been left in front of the club by mourners.
A poster, surrounded by candles, read: "Sian, Swindon will sadly miss you."
Another message left at the scene said: "You were a great person and friend. I knew you for 15 years since Drove Primary School and we stayed in touch since. Will remember your trademark big smile - was lovely.
"I'm so shocked, you only contacted me recently. Love you. Keep on smiling. Miss you."
Miss O'Callaghan lived in a flat half a mile away from the club with her boyfriend Kevin Reape, who reported her missing on Saturday morning.