Smiley Culture investigation 'as quick as possible', says IPCC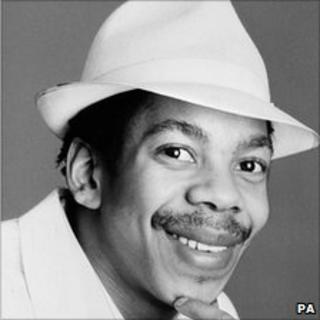 Inquiries into the death of reggae star Smiley Culture will be carried out as quickly as possible, according to the man in charge of the investigation.
The singer, whose real name was David Emmanuel, stabbed himself with a kitchen knife during a police raid at his home in Surrey on 15 March.
The death is being investigated by the Independent Police Complaints Commission (IPCC).
Commissioner Mike Franklin said he knew of the shock and anger people felt.
Mr Franklin will be on a panel at a public meeting about the death on Thursday evening at Lambeth Town Hall in Brixton, south London.
Ahead of the meeting, he said: "I am mindful that our investigation needs to be thorough and robust but that it also needs to be done as quickly as possible because people are rightly demanding answers.
"Having said that, the key to this investigation will be information we can obtain from forensic examinations of evidence gathered at the scene using the scientists and experts we have commissioned.
"These things take time, and we do not have control over how long these examinations will take, but I will be doing everything I can to ensure that this investigation moves forward as quickly as possible."
Press reports
Hundreds of Mr Emmanuel's friends and family attended a public meeting in Brixton two days after his death.
They said they would work with the IPCC inquiry but also called for public inquiry if they did not get they answers they wanted.
Mr Franklin said he was aware that one aspect of the case which had caused concern was anonymous sources quoted in some press reports within hours of Mr Emmanuel's death.
"I am absolutely confident that those sources were not from the IPCC," he said.
"I share the frustration and I know our investigators do too."
An inquest heard on Friday that Mr Emmanuel, 48, died at his home in Hillbury Road, despite attempts at resuscitation.
He had been due to face trial this week accused of conspiracy to supply cocaine.
Smiley Culture's biggest hit was the 1984 song Police Officer, which reached number 12 in the UK charts. His other singles included Cockney Translation and Schooltime Chronicle.
Smiley Culture made a cameo appearance in the film Absolute Beginners in 1986, and recently featured in the BBC4 documentary Reggae Britannia which explored the rise of UK reggae.