Family of Kevin Lavelle in legal bid to find killer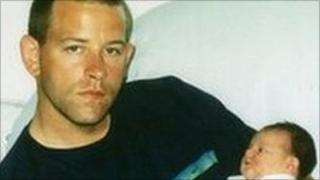 The family of a man who died in an Oxfordshire pub fight have started a fresh legal bid to find his killer.
Kevin Lavelle, 29, of Bootle, Merseyside, died after being fatally wounded with an iron dumbbell at The Cricketers Arms, Banbury, in June 2004.
The Court of Appeal heard that no-one had been identified "in a public forum" as having killed Mr Lavelle.
Ceri Noble, of Rhondda, south Wales, was acquitted of murder in January 2006 on the judge's directions.
There was also an inquest in March 2009 at which Mr Noble and two other men, Philip Lawless and Leslie Gibbs, gave evidence, which ended with a verdict of unlawful killing.
'Family aggrieved'
A civil damages claim was launched in January 2008, which was heard by a judge at Oxford County Court in January 2010.
"The case was set down for five days and went through at the speed of a SNCF express train in France," the family's counsel Mark James the court.
Mr James acknowledged "various procedural shortcomings" on the part of lawyers representing the family.
He asked the appeal judges to overturn a number of rulings by the county court, including "two particularly important" ones which excluded evidence relating to DNA analysis and that of a key witness.
He said it was his case that Mr Noble or Mr Lawless or Mr Gibbs "jointly and severally caused the death" of Mr Lavelle.
Resisting the bid to have the case sent back to a different judge for a retrial of the civil claim, Augustus Ullstein QC said that to allow "a second bite of the cherry" would create serious injustice.
He told the appeal judges that Mr Lavelle's family felt aggrieved that nobody had been convicted and that they had been badly served by their legal team.
But he added that was not the fault of Mr Noble or his legal advisers, and the court should "not be beguiled" into allowing the family, six-and-a-half years after Mr Lavelle's death, to start the process all over again.
After Mr James finished his submissions, the judges said they would give their decision at a later date.