Councils in England to share £200m pothole cash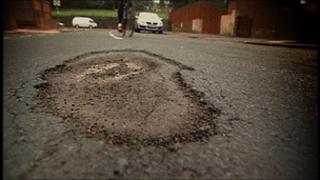 Councils in England have learnt how much they will receive to repair potholes caused by the freezing winter.
The £100m "exceptional payment" councils were promised in February was doubled in Wednesday's Budget.
Devon County Council will receive the highest amount at £9.3m and Hampshire and Kent were among six authorities to get more than £6m each.
A Local Government Association spokesman welcomed the additional funding.
The last three winters have been particularly bad for potholes, which form when water seeps into road cracks and freezes, breaking up the tarmac.
The Department for Transport said all 153 local highway networks will receive funds which will be distributed within a few days. The amounts were worked out according to the length and condition of roads in each authority.
Transport Secretary Philip Hammond said: "Potholes are a menace to all road users and I want councils to make fixing them a priority.
"That is why, when more funding became available, I agreed with the chancellor that we would double the amount of money we are providing for repairs to be carried out.
"This represents a significant investment in road maintenance at a time of severe fiscal restraint, demonstrating the government's commitment to maintain our infrastructure to support motorists and businesses."
'Vital' maintenance
He said this extra money was in addition to £3bn it was investing in roads over four years.
Cumbria County Council is among six councils which will receive more than £6m. The council told a BBC study in February it had paid out nearly £1m in compensation over three years as a result of potholes and damaged roads.
Norfolk County Council, which BBC research found still needed funding to fix potholes which remained from the winter of 2009/10, is to receive £6.9m.
Peter Box, of the Local Government Association, said the funding was good news.
"Even as council budgets are being cut, it is vital that highway maintenance is sufficiently funded over the coming years if we are to prevent roads from crumbling into disrepair.
"Councils filled in more than two million potholes last year and, following the coldest December on record, face a difficult task to keep roads in a safe condition this year."