MPs welcome south-west England water bills help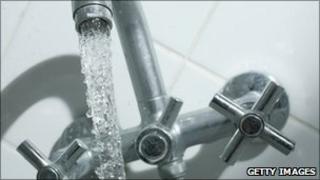 Devon and Cornwall MPs have welcomed an announcement that public money is to be used to cut water bills.
Chancellor George Osborne said in his Budget speech that south-west England's bills were "unusually high" and money would be set aside to reduce them.
South West Water (SWW) customers have some of the highest bills in Britain.
Torbay Liberal Democrat MP Adrian Sanders and North Cornwall Lib Dem Dan Rogerson said they had heard that up to £40m would go towards a relief fund.
SWW customers - who live across Cornwall, Devon and parts of Dorset and Somerset - pay for the upkeep of 30% of England's coastline, even though they make up only 3% of the population.
One of SWW's main outlays over the past 20 years has been its £1.5bn Clean Sweep programme to completely revamping the region's sewage system.
Until the 1990s the system was discharging untreated effluent on to beaches from 250 pipes, damaging the region's reputation as a tourist area.
After the chancellor's announcement, Mr Rogerson said: "After years of campaigning and an uphill struggle to help hard-pressed South West Water customers, I wholeheartedly welcome the news that the Treasury will put money towards a water bill relief fund, which is expected to be in the region of £40m a year."
Adrian Sanders said he was "absolutely delighted that the announcement has been made".
He said: "It's the first time in 20 years that the government is actually doing something about a problem that is peculiar to the South West and is a great injustice."
Conservative MPs also welcomed the announcement, including Camborne & Redruth's George Eustace and Central Devon's Mel Stride.
However, Exeter's Labour MP Ben Bradshaw told the BBC the country's water system was "not easy to divide so it just helps the South West".
He said: "If the government can come up with a solution - and we recommended two solutions in the Walker Review - as long as they implement those recommendations, in full and permanently, I welcome that."
Recommendations from the 2009 Walker Review included forcing taxpayers across England to subsidise the South West's rising water bills, and encouraging more customers to switch to water meters.
SWW said it "welcomed the prime minister and chancellor's commitment to address the unfairness of water charges".