Immigrants to Hereford and Worcester 'should do census'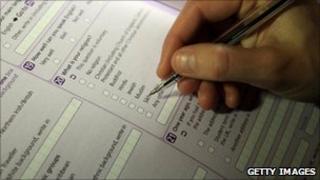 The 2011 census will "fill in the gaps" when it comes to the size of the Eastern European community in Herefordshire and Worcestershire, according to people who work with immigrants.
The claims come after a business forum for people from Eastern Europe was held for what is believed to be the first time in Worcestershire this week.
Five years ago Wychavon District Council estimated there were up to 2,500 migrants working in the area.
The council organised a forum to engage with some of the businesses that have sprung up in and around Evesham in recent years that are owned by people who come from Eastern Europe.
But the presence of a strong Polish community in Herefordshire and Worcestershire is nothing new - after World War II 1,200 Polish servicemen were demobilized from Kidderminster to hostels around the area.
In 2004 10 member states joined the European Union: Cyprus, the Czech Republic, Estonia, Hungary, Latvia, Lithuania, Malta, Poland, Slovakia, and Slovenia followed by Bulgaria and Romania in 2007.
But people working with immigrants say data remains patchy on just how many people have entered the UK - and that is where they believe the census will help.
Tom Piotrowski runs projects to improve integration in rural areas through the Worcestershire Partnership - an organisation that aims to support people living in the county.
He hopes the 2011 census will fill in the gaps of just how many people have moved to Herefordshire and Worcestershire from Eastern Europe.
He said: "Filling in the census is absolutely crucial. The data that currently exists doesn't provide us with a full picture of what the numbers of migrant workers are.
"It's vital for a better understanding of the numbers we're talking about. There is a correlation between the support a community receives and the number of people there are.
"We want to make sure the people who come here have a positive impact on the economy and don't feel alienated."
'Balanced view'
He said knowing population numbers helped when organising language provision and applying for funding for community projects.
Mr Piotrowski said the census data could also improve how the community was perceived by British people.
He said: "We are striving for a balanced view. We know that the majority of people coming here from Eastern Europe are young and of a productive age where they put more into the system than they take away, but this has been a source of misunderstanding."
People have been asked to include their country of birth on the census since 1841 but in 1971 a further question on the country of birth of people's parents was also included to help improve migration data.
Chris Brooks, the council's regeneration manager, is keen to work with migrant businesses which he believes help areas affected by the recession.
He said: "We are always keen to see new establishments, particularly in areas like Port Street where over the years there has perhaps been a lack of investment. It's fantastic that we have businesses investing there."
Rajmund Piasecki is the co-owner of Via Cracow, a restaurant serving Polish dishes which opened in Evesham in July 2010.
He said he was grateful for support he had received from the council when they started the business.
"The beginning was very difficult for us but we are looking with hope towards the future as the restaurant becomes more successful.
"We are happy to be a part of the regeneration of Port Street and the whole of Evesham."