Avon and Somerset fixed speed cameras to stop working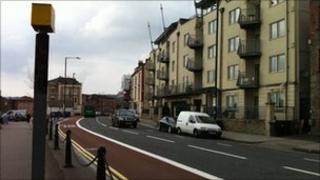 Fixed speed cameras across Avon and Somerset will stop working from the end of March, the BBC understands.
Safecam, the organisation which manages the cameras for the councils, was officially disbanded on Wednesday.
Digital cameras will stop working when a contract with BT finishes at the end of March while wet film stocks have already been exhausted.
Avon and Somerset Police will now only use mobile camera vans for speed enforcement.
The closure of Safecam has led to three posts in Taunton being axed and jobs in the Bristol unit which processes fines being reduced from 44 to 30.
The closure of the organisation means responsibility for fixed cameras transfers to local councils.
Somerset, North Somerset and South Gloucestershire have already said they will not fund the cameras.
Bristol and Bath and North East Somerset councils said they had not yet decided on funding, but without a contract with BT for digital cameras or any film stock, the cameras will stop working.
Ch Supt Lawrie Lewis, the chairman of the road safety partnership, said the alternative of using mobile cameras would help to "save lives".
"Faced with the spending cuts which all local authorities are faced with, some difficult decisions had to be made.
"That difficult decision has led us to a situation where we believe the flexibility of mobile enforcement gives us the best opportunity... to deliver a service to the public."
The future of the partnership had been in doubt following cuts in government funding.
Several options were considered, including outsourcing some of its work to neighbouring Dorset Constabulary.
Another option would have seen more speeding drivers made eligible for awareness courses to bring in more revenue.
An independent report by Deloitte claimed the move could raise an extra £240,000 per year.
But these options were all rejected.