Kent's new deputy chief constable appointed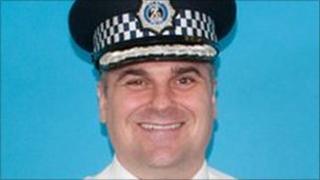 A senior police officer who has led a serious crime unit collaboration betweenthe Kent and Essex forces is the new deputy chief constable of Kent.
Alan Pughsley, who took over the role on a temporary basis in January, has now been appointed permanently.
Mr Pughsley joined Kent Police in 2009 from the Met. He was also a detective superintendent with Surrey Police.
More than 1,100 officers and support staff work for the Kent and Essex Serious Crime Directorate.
It was set up last year to focus on murder, rape, kidnapping, drug dealing and burglary on both sides of the Thames Estuary.
'Change management'
Mr Pughsley also led a restructuring programme in Kent which has reduced policing areas from six to three.
The measures are part of drive to cut the police budget by 20% and axe 1,000 staff posts and 500 officers.
Ann Barnes, who chairs Kent Police Authority, said it was imperative that the new deputy chief constable had "skills in change management".
'I'm absolutely thrilled to be leading the force... during exciting but challenging times," said Mr Pughsley.
"It is a real privilege to be offered this opportunity and I will do all I can to ensure that Kent Police continues to deliver a quality policing service."