Crackdown as suspected sham marriages rise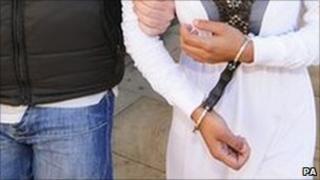 Reports of suspected sham marriages in England and Wales have risen by 66% in a year, as the Home Office steps up measures to stop them.
Registrars reported 934 suspected sham marriages in 2010, compared to 561 in 2009 and 344 the year before.
The increases come after the Law Lords overturned a government scheme designed to stop illegal immigrants marrying.
"Effective enforcement" would replace the scheme and recent operations have seen 155 arrests, the Home Office said.
Registrars must report suspicious marriages to the UK Border Agency.
In some cases immigration officers have disrupted marriages and arrested brides, grooms and guests during ceremonies.
Mandy Brammer, the deputy superintendent registrar for Brent, said the problem had increased in the north London borough which sometimes saw five or six suspected sham marriages a week.
"There are certainly things that make you suspicious. Sometimes couples don't even know the full name or date of birth of the person they are planning to marry," she said.
'Arbitrary and unjust'
Registrars reported 3,578 suspected fake marriages in 2004 but this fell to 452 in 2005, the year the Certificate of Approval (COA) scheme was brought in. Figures remained below 500 a year until 2009.
The scheme meant people not legally permanently settled in the UK needed Home Office permission to marry.
However in 2008, Law Lords ruled the "arbitrary and unjust" powers discriminated against foreign nationals. It followed earlier challenges from couples who claimed the rules breached their human rights.
The Home Office said the scheme, which is being scrapped, had been weakened by changes following court rulings and was "no longer an effective method of countering the practice of sham marriage".
Foreign nationals can currently get a COA without having a valid visa.
The Home Office said "increased emphasis" had been placed on tackling sham marriages since courts overruled the COA scheme.
A spokesman said intelligence gathering had been stepped up, with specialist teams working with registrars and churches.
Enforcement action and face-to-face interviews where people were suspected of lying about their relationship had also increased.
'Uneasy feeling'
A number of recent court cases over sham marriages have involved Eastern European gangs, leading to claims a money-making "industry" has been created.
Ms Brammer said many suspicious marriages in Brent involved Eastern European brides marrying men from countries such as Sri Lanka, Pakistan and India.
Ms Brammer said a number of factors may spark "an uneasy feeling" that a marriage is not legitimate.
"For example, if they both come with interpreters, then how can they communicate with each other?" she said.
Registrars can only report suspicions over immigration issues but are powerless to stop a wedding unless there is a lawful reason to do so.
Ms Brammer said: "We had one wedding where it was all men, apart from the bride - who was the only woman at the ceremony.
"The next day all the same guests came back for another wedding. Only the bride and groom were different.
"The guests were the same, although some were in different clothes and the witnesses had been moved around."
Last summer 126 people were arrested as a result of 53 sham marriage operations and between November 2010 and January this year a further 29 people were arrested.
"Our main aim is to identify the organisers who profit from and fuel the demand for sham marriages and destroy their criminal business," a Home Office spokesman said.
Find out more on Panorama: My Big Fat Fake Wedding, BBC One, Thursday, 24 March at 2100GMT then available in the UK on the BBC iPlayer.