Brothers jailed over Lapland New Forest park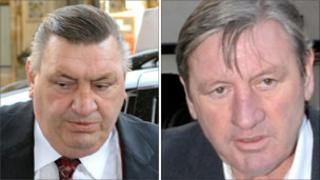 Two brothers have been jailed for misleading thousands of customers at a Lapland-themed park on the Hampshire and Dorset border.
Victor Mears, 67, and Henry Mears, 60, ran the Lapland New Forest attraction in 2008 but it closed within days after hundreds of complaints.
In February they were found guilty of eight charges of misleading the public.
Both men, from Brighton, were sentenced to 13 months imprisonment at the hearing at Bristol Crown Court.
They were also disqualified from being company directors for five years.
Judge Mark Horton said they showed not one "scintilla of remorse" throughout the trial and praised the way Dorset Trading Standards had handled the investigation.
He is expected to take additional evidence before making an order for costs.
He told the brothers: "You promised customers in your advertising an amazing snow-covered Lapland village which was - in your own wonderful words - 'Where dreams really do come true' and 'Where we have prided ourselves on attention to detail'.
"You told consumers that it would light up those who most loved Christmas. You said you would go through the magical tunnel of light coming out in a winter wonderland.
"What you actually provided was something that looked like an averagely-managed summer car boot sale.
"The failure of Lapland New Forest was caused by the unrelenting greed shown by you and your desire to squeeze every drop of profit rather than build and create the winter wonderland you promised thousands of consumers."
He added: "I have had the opportunity to observe you both during the trial, both in your attitude to this case and the volume of quite obvious lies told.
"In this case, I was unable to discern any remorse in your actions. You still seek to blame others for that which you failed to achieve."
The brothers showed no expression on their faces as they were led away from the dock to begin their sentences.
'Unpleasant case'
During the trial the court was told that customers, who paid up to £30 a ticket, were greeted by a muddy field, fairy lights dangling from a tree and a broken ice rink.
Less than a week after opening in November 2008, the attraction closed, with its owners blaming the media and sabotage by "New Forest villains" for the decision.
The trial, brought by Dorset Trading Standards, heard that Victor Mears, of Selsfield Drive, and Henry Mears, of Coombe Road, could have made more than £1m from advanced ticket sales.
After the sentencing, Dorset's community services councillor said: "This was a particularly unpleasant case of misleading consumers, as those targeted were families with children in the run up to Christmas.
"Our trading standards officers reacted promptly when complaints were received and remained committed to a full investigation so the organisers could be brought to trial.
"It has been a long wait for all concerned, in particular for those disappointed customers who were prepared to provide evidence in court."