Forests panel to hold hearings across England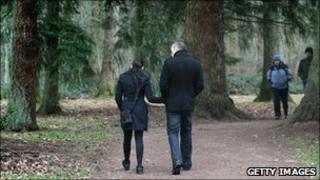 A panel examining the future of England's forests will hold hearings across the country, the environment secretary has announced.
The move comes after the government was forced to abandon its plan to sell off 258,000 hectares of state-owned woodlands last month.
Labour says many organisations have been excluded from the panel.
But Environment Secretary Caroline Spelman says their voices will still be heard.
She said: "The independent panel will hold its meetings in different parts of England - as was the original intention with the consultation - to come to people with concerns about forests.
"We had a huge number of organisations apply to go on to the panel, over 70 organisations, and the panel will engage all those in receipt of information, views and evidence, so everyone feels involved."
Last month Mrs Spelman admitted the government had "got this one wrong" after abandoning a consultation on selling off woodlands in the face of a public outcry.
'Not out of the woods yet'
But shadow environment secretary Mary Creagh said on Thursday: "This Sunday will see thousands of people gather in forests across the country to keep up pressure on the government to abandon its sale of 100,000 acres of England's forests.
"They will be asking why their local organisations have been excluded from this forestry panel."
"The trees are not yet out of the woods," she said.
Pam Warhurst, chairman of the Forestry Commission, said: "Many people from all over the country and all parts of society have told us how much they value their forests. We must pay heed to that."
The panel members will be:
The Bishop of Liverpool, the Right Reverend James Jones
Shireen Chambers, executive director of the Institute of Chartered Foresters
Mike Clarke, chief executive of the RSPB
Tom Franklin, chief executive of the Ramblers' Association
Stuart Goodall, ConFor chief executive
Stephanie Hilborne, Wildlife Trust chief executive
Sue Holden, Woodland Trust chief executive
Alan Knight, Single Planet Living founder
Dame Fiona Reynolds, National Trust director general
Sir Harry Studholme, Forestry Commission ,
John Varley, estates director of Clinton Devon Estates
William Worsley, president of the Country Land and Business Association