University for the Creative Arts faces 7.8% funding cut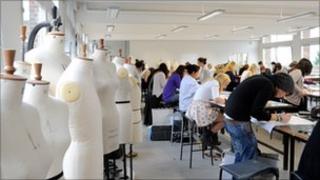 The deputy vice chancellor of a university facing one of the biggest funding cuts in England has said the arts have been hit across the country.
The University for the Creative Arts (UCA), which is based in Kent and Surrey, is facing a cut of 7.8%.
Mark Hunt said the government had favoured "stem subjects" such as maths.
Universities Minister David Willetts said universities were moving to a new regime where teaching funding would follow the choices of students.
'Vital role'
England's 130 universities have been learning how much they are being allocated in direct government funding, with almost all of them facing cuts.
Mr Hunt said: "I think the creative arts have been hit particularly, across the country, in terms of their subjects."
He said the government had favoured subjects such as science, engineering and maths over the creative arts.
Sally Hunt, general secretary of the University and College Union, said the funding cuts could be the "beginning of the end" for some departments and there was a risk that arts and humanities courses could be "shut down".
Universities Minister David Willettts said: "Next year will be a year of transition to a new funding regime where more teaching funding will follow the choices of students.
"We recognise the vital role that higher education plays, which is why revenue funding for teaching and research in higher education could rise by nearly 10% in cash terms by 2014-15.
"These changes will support a more diverse sector, where the choices of informed students provide a drive towards high quality teaching and efficient use of resources."
'Top end' fees
At UCA, other income sources included student fees, and governors would be setting fees for the academic year 2012-13 next week, Mr Hunt said.
He said he expected fees at UCA, which has campuses in Canterbury, Epsom, Farnham, Maidstone and Rochester, to be "towards the top end".
He also said people were currently "chomping at the bit" to get into UCA's five campuses and, nationally, there were about 280,000 students applying for art and design degrees.
He said: "We're a specialist. Alongside the University of Arts London, we receive most applications within the country in terms of what we do. It may be that it's other providers that have some problems."
Fashion designer Zandra Rhodes, who studied at the college before it became a university, is now UCA's chancellor.