Talks start over south coast's new offshore wind farm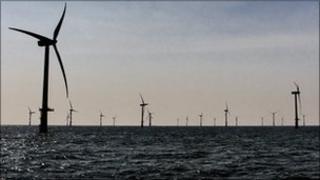 A series of meetings to discuss plans for an offshore wind farm off the Hampshire and Dorset coast start later.
Up to 240 turbines are planned for the site to the west of the Isle of Wight which could generate electricity for up to 800,000 homes.
If approved construction would start in 2016 and the wind farm would be fully operational three years later.
The first public meeting will be at the Pavilion Theatre in Weymouth between 1400 and 2000 GMT.
Several more will be held in parts of Hampshire, Dorset and the Isle of Wight until 31 March to allow residents to view the proposed plans.
The wind farm will be situated about 8.2 miles (13.2km) away from Peveril Point in Swanage, 10.2 miles (16.4km) from Bournemouth and 8.4 (13.5km) south west of The Needles on the Isle of Wight.
Eneco Wind UK, based in the Netherlands, won the Isle of Wight licence, which is one of nine sites around the UK earmarked for large offshore wind farm projects.
All the winners have signed exclusive agreements with the Crown Estate, which owns the UK seabed.