Kraft chiefs quizzed on Cadbury takeover by MPs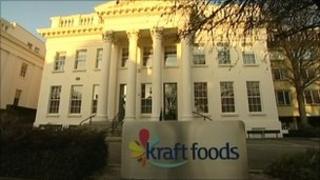 MPs have said the absence of Kraft chief executive Irene Rosenfeld from a hearing over the firm's Cadbury takeover was a "slap in the face".
The Commons Business, Innovation and Skills Select Committee was following up a report in which it said Kraft acted "irresponsibly and unwisely".
Kraft's takeover of the Birmingham-based chocolate firm was completed at the beginning of 2010.
Ms Rosenfeld's team insisted she was interested in the hearing.
Kraft was criticised by the Takeover Panel for closing the Somerdale factory near Bristol after pledging to keep it open.
'Quite contemptuous'
Committee chairman and West Bromwich West Labour MP Adrian Bailey told the hearing the committee had some difficult questions for the company, especially over the fact that Ms Rosenfeld was not appearing before the committee and also the Takeover Panel's decision.
"Especially as this is the first time Kraft has appeared before any scrutinising body since the decision was made," he said.
Liberal Democrat David Ward, Bradford East, said Ms Rosenfeld's refusal to appear before the committee was a "slap in the face" and "quite contemptuous" to the MPs.
Kraft's executive vice-president Marc Firestone said Ms Rosenfeld was certainly interested in the 5,500 staff employed by Kraft and Cadbury in the UK.
"She is certainly interested in the business growth we have had over the last year," he said.
"I would not infer from the fact she is not here this morning that she is not interested in these subjects," he said.
He also reiterated a pledge, given after the decision to close the Somerdale factory, that no further manufacturing jobs would be cut over two years.
Kraft also said it was time to "move on" from the controversy surrounding the takeover and the Somerdale closure and concentrate on growing the business.
Nick Bunker, president of Kraft Foods UK and Ireland, said of the 400 people who had lost their jobs, 100 had found other employment, 80 had retired and 26 had found other work within Kraft.
The Somerdale site is being marketed this month, he added.
Kraft has Cadbury sites at Bournville; Chirk, near Wrexham; and Marlbrook in Herefordshire.