Kent and Sussex heritage rail extension set to reopen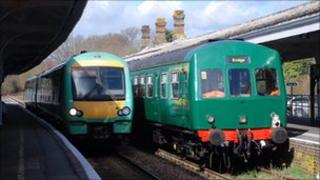 A two-mile section of railway that has been closed for more than 25 years is expected to reopen later this month.
Spa Valley Railway said a service would run between Tunbridge Wells and Eridge on 25 March, subject to confirmation by the Secretary of State for Transport.
The line, which runs across the Kent/Sussex border, was closed by British Rail in July 1985.
Reopening costs have been funded by donations from the public, Spa Valley Railway members and rail firms.
'Phenomenal energy'
Paul McKinnell, director of Spa Valley Railway, said: "It's taken many years of negotiations with Network Rail but we are delighted that after the disappointment of previous false starts we can, at long last, announce that the first public train will depart from Tunbridge Wells to run to Eridge at 1150 on Friday 25 March.
"The project to return Spa Valley trains to Eridge has taken eight years.
"Volunteers have put phenomenal amounts of time and energy into the project."
The Spa Valley Railway, based in Tunbridge Wells, is kept running through the work of a group of dedicated volunteers.
About 30,000 people use the service each year to travel From Tunbridge Wells to High Rocks and Groombridge Place.
The Spa Valley Railway line dates back to 1866.