Lancashire and Greater Manchester fire crews in Japan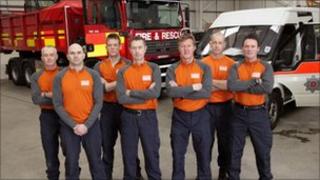 Fire crews from Greater Manchester and Lancashire have flown out to Japan as part of the UK's International Search and Rescue team (UKISAR).
The two fire services have sent a total of 13 firefighters as part of UKISAR's 63-strong team, which includes two dogs - one of which is from Cheshire.
The team have set up base in a gym, ready to begin searching for earthquake survivors at first light.
Friday's earthquake and the following tsunami killed thousands.
UKISAR, which also has firefighters from Kent, the West Midlands, Lincolnshire and Mid and West Wales, have taken 11 tonnes of specialist equipment with them.
After arriving in Japan, the team joined an aid convoy heading to Ofunato City, in the north west of the country.
It was particularly badly hit in the tsunami, with hundreds of houses washed away and local infrastructure destroyed.
'Still hopeful'
Peter Stevenson, from Oldham, is leading the UKISAR team. He said the team was ready to do whatever was required of them.
He said: "We are still hopeful as there are many areas that haven't been assessed yet in Japan.
"We're going to link up with other responders and see what rescue work they are doing and do similar work."
He said the crews were carrying radiation monitoring equipment but they were some distance away from the nuclear plant which has seen three blasts in the wake of the earthquake.
The crews are expected to remain in Japan for up to two weeks.