Damilola Taylor killer Rickie Preddie returned to jail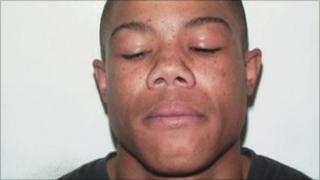 One of the two brothers convicted of the manslaughter of schoolboy Damilola Taylor in south London 11 years ago has been returned to jail.
Rickie and Danny Preddie were jailed for eight years in 2006.
Rickie - 13 when Damilola died - was released in September on licence but has been returned to jail after breaching his conditions on Friday.
Damilola, 10, was returning home when he was stabbed in the thigh with a broken beer bottle in Peckham in 2000.
The probation union Napo said the conditions of Rickie Preddie's release had been to live at a probation hostel, to adhere to a night-time curfew and a geographical exclusion zone, and to be of good behaviour.
'Strict conditions'
Assistant general secretary Harry Fletcher said: "It is understood he allegedly breached the exclusion zone on Friday evening and as a consequence was recalled to custody under emergency procedures."
A Ministry of Justice spokesman said he could not comment on the news, but added: "All offenders subject to probation supervision on release from prison have to adhere to a set of strict conditions.
"They are subject to recall to custody if they breach their conditions or their behaviour indicates that it is no longer safe for them or for the public if they remain in the community.
"Once an offender has been recalled by the probation service it is then for the police to return them to custody."
Damilola's family had come to the UK from Nigeria a few months before his death, in search of a better life.
The 10-year-old, who was stabbed on his way home from a library, bled to death in a concrete stairwell.
Danny Preddie, who was sentenced with his brother at the Old Bailey in October 2006, is due to be released this year.