Northern Rail brings in mobile CCTV to cut crime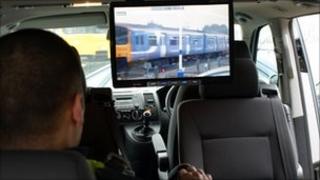 Train operator Northern Rail has introduced a mobile surveillance vehicle in an attempt to cut crime on trains and at stations.
The vehicle, which is equipped with high-powered CCTV cameras, will be used during large scale events, such as football matches.
It will also patrol stations and car parks where there is no on-site CCTV.
The company said it was working closely with British Transport Police and could provide footage for court proceedings.
Gary Stewart, safety director for Northern Rail, said: "With many stations it is not possible, nor necessary for us to install CCTV at all of these locations.
"The mobile surveillance vehicle allows us to provide further support to British Transport Police and provide our employees and customers with a higher level of reassurance."
Det Ch Insp Malcolm McKinnon, of British Transport Police, said: "The introduction of the mobile CCTV vehicle will provide us with another evidential tool to tackle problematic and criminal behaviour on the railway."