Protests over railway radio masts in Devon and Cornwall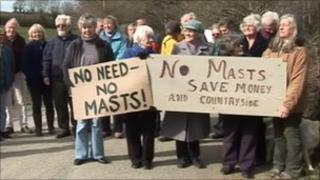 MPs and people in Devon and Cornwall living near planned railway radio masts have criticised the structures which do not need planning permission.
The 95ft (29m) tall masts are being put up along main and branch lines for new digital radio communications equipment.
Protesters said there should be more consultation with nearby residents over their installation.
Network Rail said the masts were necessary and erected within the law and it worked to reduce visual impact.
The masts are among 2,200 being built across the country by Network Rail to improve communications between drivers and signallers and reduce the risk of serious accidents.
System recommended
After the Ladbroke Grove railway accident in 1999, where 31 people died and more than 500 were injured, the Cullen Report recommended a new communications system.
The masts do not need planning permission because Network Rail has permitted development rights.
But it is obliged to consult councils, MPs and residents who live within 660ft (200m) of any site.
Geoffrey Cox, Conservative MP for Torridge and West Devon, said Network Rail should consult with those affected early on.
"A company [Network Rail] that really wants to endear its support to the public would want to consult people straight away," he said.
Construction work has begun on a mast in Bere Ferrers in the Tamar Valley in Devon.
Critics claim the mast, and others due to be built at nearby Bere Alston and Calstock in Cornwall, will stand out in an area of extreme natural beauty.
Bere Ferris parish councillor Brian Lamb added that critics were not sure if such masts were needed on all branch lines.
"It's a just a single-track line and we cannot see any justification for this," he said.
Network Rail said: "Our aim is to make the railways safer and more reliable for the passengers travelling everyday.
"When selecting a mast site, we take care to minimise any visual impact."
Sheryll Murray, the Conservative MP for South East Cornwall, is planning to meet the transport minister and has said she will be asking questions in the House of Commons about the matter.
The Department for Transport said Network Rail was "best placed to make a decision about the location of a new mast".