Somerset, Devon and Dorset fire services set to join forces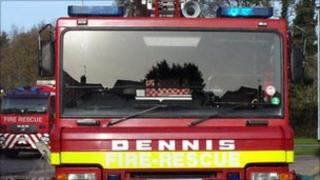 Fire services in Somerset, Devon and Dorset are set to start working together as part of plans to make 25% in savings over the next four years.
As part of plans to save £8m, Devon and Somerset fire service said it was looking at sharing top managers and procurement with Dorset fire service.
The fire services said it would mean fire centres would not have to close and it would save on redundancies.
Somerset's Fire Brigades Union said the plans were "rushed and secretive".
If it goes ahead it will be the first partnership of its kind in the country, according to the Chair of the Devon and Somerset Fire Authority.
The proposals involve sharing procurements such as fire engines as it is cheaper to buy in bulk.
'Exciting move'
The services would keep sovereignty and have separate fire authorities which would enable them to have control over local services, fire crews and stations.
They would share top managers but say this would happen over a number of years through retirements and natural wastage, rather than redundancies.
Over the two services, senior management posts would be reduced from 12 to seven.
Chief Fire Officer Darran Gunter for Dorset Fire and Rescue Service said at director level, the service had already reduced from seven to five.
Devon and Somerset Fire and Rescue said it has a £75m turnover, of which it needs to save £8m over the four years.
'Rushed and secretive'
Chair of Devon and Somerset Fire Authority Mark Healey said of the plans: "This will not affect firefighters and back office services at that level, it is at senior management level and is about collaborative working between fire services and we find it an exciting move."
Tam Macfarlane, from the Fire Brigade Union in Somerset, said: "We certainly want to see less bureaucracy and we want to have an effective and efficient fire and rescue service, however whether these rushed and secretive proposals can deliver that is open to question."
So far managers have met and given provisional approval to the plans.
The fire authority said it had arranged a meeting for next Friday with the unions where they could discuss the proposed changes.