Rail services face disruption as drivers refuse to work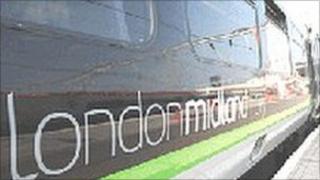 Rail passengers on London Midland services are being encouraged not to travel unless absolutely necessary on Sunday.
A statement issued by the Birmingham company said some employees are refusing to work overtime, which has led to a shortage of drivers.
In 2009 London Midland offered drivers double time to work on Sundays but has recently decided to drop this rate.
The train drivers union Aslef said its members are "extremely angry."
A statement from London Midland said it had been paying drivers over and above their standard rate to work on Sundays as it continued to negotiate with Aslef on harmonising terms and conditions.
Mick Whelan, district organiser from Aslef, said: "We're aware of the comments of the company and we find them astounding.
"We've not asked anyone not to go to work but we understand why people may not want to give up their free time for less money - our members are extremely angry."
'Totally unreasonable'
London Midland Director of Operations and Safety Wallace Weatherill said: "London Midland is phasing these temporary Sunday arrangements from double time to time-and-a-half over four months to allow families to budget for the change.
"Our drivers do a demanding and highly responsible job, but our disagreement is with Aslef and its unrealistic demands, rather than individual drivers.
"This orchestrated action comes quickly after Aslef's refusal to work Monday to Saturday overtime, and the union position is totally unreasonable."
London Midland will be operating a special timetable of three lines as well as some replacement bus services.
The company is advising passengers not to travel unless absolutely necessary.