Rise in passengers using Durham Tees Valley Airport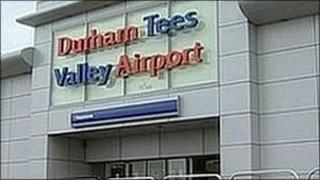 Durham Tees Valley Airport has reported a rise in passenger numbers for the first two months of 2011.
Figures for January showed 17,203 passengers used the airport compared to 11,719 a year ago.
In February passenger numbers totalled 16,266, compared to 13,087 in the same month in 2010.
Owners Peel Airports said the figures showed people had not been put off by the introduction of £6 passenger facility fee in November 2010.
Airport director Mike Morton said Durham Tees Valley was "fighting back" after overall passenger numbers plummeted by 63,000 in 2010.
He said: "It's no secret that Durham Tees Valley has had a tough time over the past couple of years.
'Financial stability'
"But I believe that with the turnaround which began in November we are starting to head in the right direction.
"What I believe is especially significant is that the passenger facility fee does not appear to have had a negative impact on our passenger figures.
"Indeed the evidence from talking to many of our customers is that they recognise the fee is needed to secure the financial stability of the airport and enable us to plan for its long-term future."
Passenger numbers at Durham Tees Valley peaked at 912,000 in 2006 but have been in decline since then, according to the Civil Aviation Authority.
In 2010 about 224,500 passengers used the airport.