Electric meter crime hits Kent, London and Midlands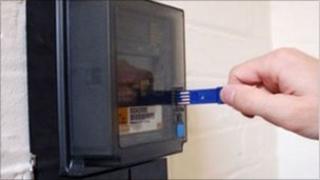 Criminal gangs are targeting people with electricity pre-payment meters in a doorstep fraud with hotspots reported in Kent, London and the Midlands.
Crimestoppers has warned people to be alert to the doorstep fraud and offered a £10,000 reward for information.
The fraudsters sell illegal, cut-price electricity top-ups by pushing a cloned key into people's meters to add credit.
Data from six energy companies has shown more than 120,000 people have been affected across the UK.
More than 5,300 incidents have been reported in Kent this year. Birmingham saw 6,978 incidents.
Customers 'pay twice'
Across the country, customers have given the criminal gangs more than £7m, figures from British Gas, EDF Energy, E.ON, npower, Scottish Power and SSE have shown.
The energy firms are working with watchdog Ofgem and industry body Energy UK to tackle the problem.
Last year, Ofgem demanded a report from Energy UK on how and when the fraud occurred and how it could be prevented.
On Thursday, Ofgem confirmed steps had been taken to address the problem and it was continuing to monitor the situation.
Dave Cording, Director of Operations at Crimestoppers, urged anyone who was approached with an energy meter top-up at their doorstep not to get involved.
He said: "We are offering a reward of £10,000 to anyone who can supply us with information leading to the arrest and conviction of those involved in this crime."
Energy firms have warned customers they could end up paying for electricity twice - once to the criminals and then again to their energy company after the fraud is detected.
More than three million people in the UK use pre-payment electricity meters.
The only official outlets for electricity top-ups are PayPoint, Payzone or the Post Office. The fraud does not affect gas pre-payment meters.