Bristol City FC chairman sure stadium will be built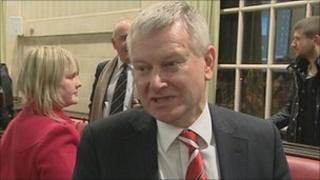 The chairman of Bristol City Football Club is sure the club will be able to build a controversial new stadium at Ashton Vale.
The club has planning permission for the 30,000-seater stadium but an application for town green status could block it.
"It's what people want and the majority of people in Bristol want it," he said.
But one resident told the BBC she was very worried about the impact the stadium would have on the area.
Steve Lansdown announced on Wednesday he is to stand down as the club's chairman but will remain the major shareholder.
Part of the club's plans to build the new stadium involved selling their current ground, Ashton Gate, for development.
Vital stadium
The council overturned a previous planning decision which will allow Sainsbury's to build a new supermarket there.
This will part fund the move to Ashton Vale which Mr Lansdown believes is vital for the club.
"I know Bristol City Football Club will benefit immensely from it and that's obviously the driving force.
"It will really put Bristol back on the map and become a focal point for civic pride."
Mr Lansdown added that mediation talks, which had broken down, were now back on again.
But Ashton Vale resident Jean said the potential new stadium would be a "blot on the landscape".
"I'm bitter about the whole thing. They think it'll give glory to Bristol - what will give glory to Bristol is to maintain the greenery."