Cornwall spending £70,000 a month on emergency B&Bs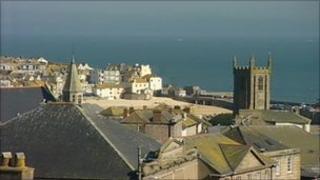 About £70,000 a month is being spent on emergency bed and breakfast accommodation in Cornwall because of a shortage of affordable housing.
The council said there were currently about 18,500 people on its waiting list for housing or help with housing.
About 100 people are being housed in B&Bs, the cost of which is mainly being paid for through government housing benefits.
The council said it was making "every effort" to increase its housing stock.
Mark Kaczmarek, cabinet member for housing, said the council was using private landlords "more and more" to provide accommodation.
He said: "We have people who can't afford the mortgages, they can't afford the cost of living and they're actually homeless.
"There is a desperate need for people to have low-rent, decent accommodation.
"We, as a council, have got a duty to provide accommodation and we have to depend on B&Bs to take up the slack."
'Family life'
Aidan King, from the homeless charity Shelter, said: "There's issues around health for everyone living in B&Bs, living in crowded conditions, families in one or two rooms.
"It's difficult for them to continue any normal family life."
The B&B accommodation is being funded by government housing benefits and contributions from the people using the accommodation.
Cornwall Council is making up the shortfall of about £70,000 a year.
Mr Kaczmarek said plans being considered to increase housing stock included building more council houses and helping provide deposits for mortgages.
Last year in Perranporth the first council homes to be built in the county for 30 years were finished.
The council said at the time it planned to build another 30 houses in the "near future".