A&P Falmouth shipyard creates 100 jobs in turbine deal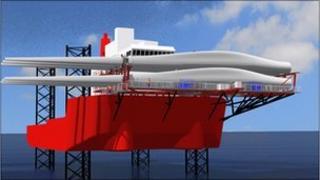 A Falmouth shipyard says a new contract for two ships installing offshore wind turbines will create about 100 jobs.
A&P will be making two 100-tonne blade racks which will hold turbine blades on the two ships.
Seajacks Leviathan and Seajacks Kraken will be installing and maintaining the Walney 2 wind farm off Cumbria.
Once on site, four legs on the ships are lowered to the seabed and the vessel jacked out of the water to make a platform for installing the turbines.
Most of the jobs at A&P will be for engineers, electricians, steel workers, plumbers and painters.
Managing director Peter Child said: "This is a very significant new contract for us and we are delighted to be working at the forefront of the marine renewables sector.
"We won the contract in stiff competition with many of the UK's other major yards."
The firm hopes to build the blade racks by the beginning of April and the Seajacks vessels are due in Falmouth in May.
Mr Child said: "The distinctive vessels will be quite a spectacle when they come into the docks as they are quite different from the ships people usually see on blocks.
"They will jack up on their legs, which makes them look like an oil rig."