Man in court for Thimblemill cemetery headstone damage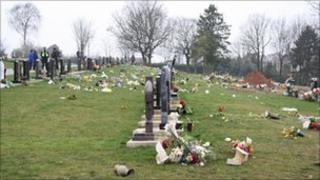 A man has appeared in court after damage estimated at £100,000 was caused to gravestones at a Black Country cemetery.
Jason Griffiths, 40, of Cowley Road, Oxford, is charged with causing criminal damage at Thimblemill Cemetery in Smethwick, near Birmingham.
He was was remanded in custody at Warley Magistrates' Court until 23 March.
About 20 relatives of those whose graves were desecrated were at court.
He will appear at the court in Oldbury, West Midlands, via videolink later this month and will then be committed to Crown Court on 18 April.
He is accused of damaging the graves between last Wednesday and Thursday morning.