Thames Valley, Surrey and London flood plan tested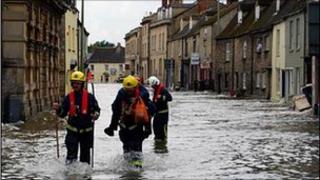 Emergency crews from the Thames Valley, Surrey and London are to be tested for their response to mock "catastrophic flooding" in the South East.
Crews, along with the Environment Agency and the government, will be on "high alert" this week to practise new plans in case the River Thames floods.
All parties will also prepare for surface water floods, collapsing reservoirs and tidal surges.
The event is part of a series of events across England and Wales.
The Environment Agency said Exercise Watermark was England and Wales's biggest emergency planning exercise, and was one of the recommendations made by Sir Michael Pitt in his review of the summer 2007 floods.
Preparation 'vital'
It is led by the Department for Environment, Food and Rural Affairs (Defra) and brings together 10 government departments, 34 local resilience forums, emergency responders, water companies, hospitals and schools to test responses to a range of mock flood situations over four days from Monday.
Peter Quarmby, flood and coastal risk manager for the Thames region, said: "One in six properties in England and Wales is at risk of flooding. It is vital we are all prepared.
"Exercise Watermark will test the plans that the government, Environment Agency, local authorities and communities have put in place since the devastating floods that hit many parts of the South East and the rest of the country in 2007."
Ch Con Mark Rowley, chair of the Surrey Local Resilience Forum, said: "We welcome the opportunity afforded by Exercise Watermark to test the new arrangements which are being put into place to deal with flooding and infrastructure emergencies."