Thieves steal 10-tonne footbridge from Selby trailer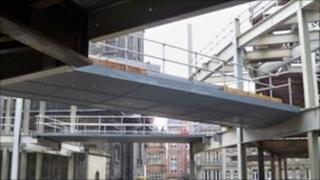 A footbridge weighing about 10.5 tonnes has been stolen from the back of a trailer in North Yorkshire.
The footbridge constructed for a new shopping development in Leeds was taken overnight on 17 February from a holding yard in Roall Lane, Selby.
The steel bridge measuring 3ft 6in (1.06m) wide is worth about £25,000 and had been on the back of a trailer.
The police said anyone who had seen the bridge being taken or knew where it was should contact them immediately.
The shopping development, Trinity Leeds, is a one million sq ft centre around Briggate, Albion Street and Boar Lane, which will have 120 shops, restaurants and employ about 4,000 people.
It is expected to open in the city centre in 2013.