Councils in England spending millions on potholes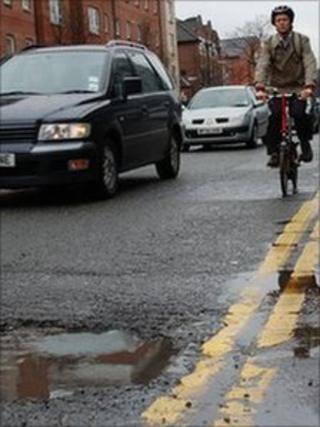 Councils in England are paying out millions of pounds to repair potholes and compensate affected road users.
Many councils have had to increase spending on road repairs and compensation over potholes - despite cuts to their budgets, BBC research has found.
The Local Government Association said roads had been under-funded for years and called for long-term investment.
The Department for Transport said it was investing £3bn in roads.
Under the BBC project, The Road Ahead, councils across England were asked how much they were spending on road repairs following spending cuts.
Most had maintained or increased their spending on road repairs, despite having to make tough choices over cuts to council jobs and services, the research found.
The Local Government Association (LGA) warned in January that councils would face a "huge struggle" to repair holes after the coldest December in 100 years.
Potholes form when water seeps into road cracks and freezes, breaking up the tarmac.
The association estimated councils had filled in more than two million potholes following the winter of 2009-10 and faced a similar task this year.
'Repairs backlog'
LGA transport chairman Peter Box said this was at a time when the government had cut its funding to councils' road budgets by £165m.
However, last week the government announced it was giving councils an extra £100m to deal with potholes, the same amount as it had given the previous year.
But some councils say they will be struggling to cope.
Knowsley Council said its road maintenance budget for 2011-12 would not cover the work needed.
"The effects of the past two winters has placed a large burden on the council's highways maintenance budget," a spokesman said.
A frequent theme to emerge from the research, carried out using Freedom of Information (FoI) requests, was the "backlog" of repairs that councils said was necessary as well the general state of roads.
Warwickshire County Council said "like most highway authorities" it had a backlog of road repairs which it estimated would cost £25m to £30m to fix.
"The highway authority could benefit from additional funding which would allow the backlog to be reduced. However in support of wider economic pressures, additional funding is unlikely," a spokesman said.
Meanwhile, Kent County Council said at least £250m would need to be spent to keep roads in the county at a good standard.
Paul Carter, leader of the Conservative-run council, said: "The government grant has gone down about 20% for highways.
"We will still focus on highways maintenance and we're spending £40m to £50m, which just about lets us hold water."
'Drop in ocean'
And Surrey County Council, which is hosting next year's Olympic cycle race, said about £400m needed to be spent to bring its roads up to scratch.
However, other councils believed they would be able to cope with potholes and future repairs despite budget cuts.
Conservative-run East Sussex County Council said it was confident it would fill about 20,000 existing potholes, despite a £1.5m reduction in its highways budget from £25m to £23.5m.
Some councils have also seen the amount they have paid out in compensation over potholes increase.
Cumbria County Council said it had paid out nearly £1m in three years, while York City Council has spent £16,580 on compensation this year compared to £1,050 in 2008-2009.
The LGA has welcomed the announcement of £100m extra funding but said this was a "drop in the ocean" as it would cost about £9.5bn to put roads across the UK into a good state of repair.
David Sparks, leader of the LGA's Labour group, said there had not been enough money invested in roads for about 25 years.
"The problem is getting worse," he said.
"We just have to spend the money - it's not a question of finance but of sheer necessity."
'Value for money?'
Paul Watters, head of roads policy at the AA, said roads were built to be waterproof but became weaker over time.
"Three bad winters have really shaken the fabric of the roads and put extra pressure on many roads which were already vulnerable," he said.
Mr Watters said as well as replacing some roads which were more than 80 years old, new technology was needed to make road surfaces stronger.
Transport Minister Norman Baker said it was "certainly the case" that last winter had created pothole problems, but said the government was putting £3bn into highway maintenance over the next four years.
However, he said some councils had, over many years, themselves under funded on road maintenance and should manage their budgets wisely.
Mr Baker said: "Local authorities of course will always want more money but what we have a right to say as a government, and what you have a right to say as a taxpayer, is are you getting value for money from the money that is being spent?
"I'm not sure in every case that is true."