'Devonwall' option a step closer after Lords vote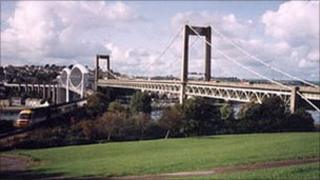 A move to stop MPs' constituencies straddling the counties of Devon and Cornwall has failed in the House of Lords.
Peers voted 250 to 221 against an amendment from former MEP for Cornwall Lord Teverson that would have prevented the so-called Devonwall option.
Cornwall will not now be exempted from provisions aimed at equalising the size of constituencies.
Lord Teverson said the issue was felt with "real passion" in Cornwall.
'Rich history'
Under the Parliamentary Voting System and Constituencies Bill, which sets up a referendum on changing the voting system in Westminster elections, constituencies could be split between Cornwall and Devon.
"This is not just an argument that is important to the political classes within Cornwall," said Lord Teverson.
"It is something that has real feeling and real passion by ordinary people, by voters, by families throughout Cornwall."
The issue has prompted campaigners in the south west to demand that constituencies do not straddle the River Tamar, which divides Devon and Cornwall.
But replying for the government, Lord McNally, deputy leader of the Lords, said he understood "the argument that is put that we would rather only have four MPs than five if one of them crosses the Tamar".
But such a belief may not be in the best interests of the people of Cornwall, he said.
"I don't really understand the identity and pride in Cornwall's rich history, the talk of strong community that we have heard of, is going to be diminished simply because one MP has taken responsibility outside of Cornwall," said Lord McNally.