RAF men jailed for smuggling cigarettes to North East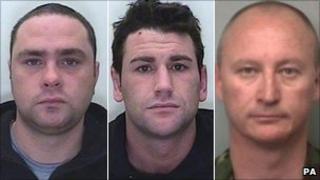 Three RAF servicemen who helped smuggle seven million cigarettes into Britain on military flights from the Middle East have been jailed.
Hauls of cigarettes were flown into RAF bases in Oxfordshire and Wiltshire and ended up in the north-east of England.
Cpl Stuart Helens, 31, Sgt Stuart Walker, 43, and senior aircraftman Paul Garbutt, 31, admitted conspiracy to cheat the public revenue.
They were given terms up to three years four months, at Bristol Crown Court.
Helens of King Edward Close, Calne, Wiltshire, was jailed for three years; Garbutt of Avon Grove, Billingham, was jailed for three years and four months; and Walker of Loggon Road, Basingstoke, Hampshire, was jailed for two years.
Civilians Lisa Harrison, 36, Alison McCabe, 45, and Christopher Garbutt, 26 - Paul Garbutt's brother - admitted being part of the scheme between late 2008 and May 2009.
Christopher Garbutt of Knapton Avenue, Billingham, admitted conspiring to cheat the public revenue and was given a nine months sentence, suspended for two years. He was ordered to do 150 hours unpaid work.
Motivated by greed
McCabe and Harrison both admitted being involved in the acquisition of stolen property.
McCabe of Fielding Road, Billingham, was jailed for six months suspended for 18 months, and Harrison, of Sydney Road, Middlesbrough, received a 12-month sentence, suspended for two years.
The three servicemen pocketed up to £30,000 each through the smuggling operation, the court heard.
Analysis of mobile phones, computers and other documents found one million cigarettes were smuggled on flights from Oman, evading around £204,000 in duty and VAT.
Another six million cigarettes were smuggled in on flights from Afghanistan, evading almost £1m in taxes.
Prosecutor Ian Dixey said the servicemen had loaded and unloaded the aircraft "under cover of darkness."
Judge Michael Longman said the three RAF servicemen had abused their positions of trust.
He said: "You were all serving members of the RAF at the time, all trusted implicitly to deal with air cargo, and you all breached that trust.
"I accept this behaviour was out of character for you all and you were motivated by greed."