Concerns over River Thames crossing between Kent and Essex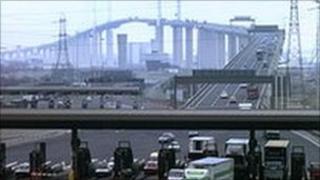 Opponents of plans for a new River Thames crossing between Kent and Essex have called for other options to be considered before a decision is made.
At a public meeting in Higham, Kent County Council leader Paul Carter argued the bridge was needed to ease congestion at the Dartford Crossing.
He has said the Gravesend area of north Kent would be "the very best location".
Gravesham Borough Council leader, Mike Snelling, said "ploughing down the route of just one option" was wrong.
Residents of villages in north Kent voiced their growing anger at the need for another river crossing at the meeting on Wednesday evening.
Jennifer Papadopulous, chair of Higham Parish Council, said Mr Carter was left with no doubts that the crossing was "not wanted".
"We've had to put up with the widening of the A2, we've got the Wainscott by-pass, we've got the high speed train," she said.
"The noise, the pollution is extremely bad. This is Dickens' country and we are ruining it."
She added there were others ways "of lifting traffic from this area".
"We don't want all this traffic coming into Dover and coming up here and over the Dartford Crossing," she said.
"There must be other ways and other means of getting some of this heavy traffic through the country."
Councillor Snelling said he had received a letter from the Department for Transport saying it was going to examine all the options for a crossing in the next 12 to 18 months.
"I think this kneejerk reaction - there's only one option and that's the route we're going to go down even if we can't pay for it, which appears to be the case - I don't think that's a sensible way to proceed," he said.
Protect Kent, the local arm of the Council for the Protection of Rural England, said the proposal was far from sustainable.
As well as the impact on wildlife, members of the organisation said it would ruin the quality of life for people living in the surrounding area.