'Cruel' asylum system 'shames us'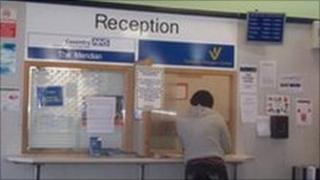 Oxfam has warned of a "hidden crisis" of thousands of refused asylum seekers facing destitution in Britain. Coventry is among the places where charities are working together to provide help.
In a room behind the busy reception at Coventry Refugee Centre, about 20 plastic bags are lined up filled with basic groceries, including rice, milk and cooking oil.
The centre hands out about 50 food parcels a week to asylum seekers who have no income after having their applications refused.
Bhopinder Basi, the centre's chief executive, said the parcels fed "only a tiny fraction" of hundreds of asylum seekers in the city.
He said every day about 20 people asked the centre for a place to sleep.
Asylum seekers who have their applications turned down can be faced with being sent back to their home countries immediately - or can, for humanitarian or other reasons, be given permission to stay temporarily.
In these cases and where people commit to leaving the UK as soon as they can, people are given short-term "section 4 support" by the government, which gives them suitable accommodation, but no cash.
Instead, the applicants are each given a payment card worth £35.39 a week to buy food and essential toiletries.
Falling under radar
However, Oxfam's new report says that people in these circumstances are often not applying for these benefits because they have no faith in the system. And many do not apply because they want to remain in the UK and so avoid official bodies.
The charity said that as a third of the asylum refusals were overturned on appeal it only showed people that the process was flawed.
It said that meant many were falling under the radar.
Mr Basi said he had seen many asylum seekers resorting to living on handouts or taking illegal work while sleeping on friends' floors or the street.
He said the "incompetent" system meant many people who had fled troubled countries for legitimate reasons were also initially refused asylum.
"Many people can't return to their countries and others would rather stay and be poor than go home," he said.
He claimed the system made people desperate and vulnerable to criminals, such as sex traffickers and illegal gangmasters.
Mr Basi said some refused asylum seekers became involved in crimes, such as shoplifting.
"Public policy seems to be based on cruelty where the welfare provision is so bad it is saying to people, 'don't dare darken our doorstep'," he added.
"The last time we had such draconian measures was with the Elizabethan poor laws".
Coventry Refugee Centre has 40 staff and 120 volunteers, many of whom are former asylum seekers themselves.
Mr Basi said its workers covered 29 different languages and helped people from nearly 90 countries.
He said new communities in the city included Iraqi Kurds, Somalians and people from Eritrea and Zimbabwe.
VJ, from Zimbabwe, is among the volunteers.
The 40-year-old came to England with his wife in 2003 on an espousal visa but after his marriage broke down, his position became illegal.
"In 2005 I was sent documents saying my stay was being terminated and I also lost my job with the NHS," he said.
VJ, who was working as a nursing assistant, said he could not return to Zimbabwe - a country which disallowed protests and opposition to the government.
He stayed with his cousin in Rugby for about three years, where he shared a room with his 14-year-old nephew and relied on the family for food and cash.
"I had no option," he said.
"I was quite depressed and spent a lot of time watching television, without really watching.
"I couldn't communicate. I lost confidence and didn't want to go out."
He said his asylum application was eventually approved in 2008 after the situation in Zimbabwe deteriorated.
Bhopinder Basi said he agreed with Oxfam's call for a review of the asylum system.
"It is being left to charities to provide food, shelter and basic necessities and it brings shame on our country and our values," he said.
Mr Basi said although he was not religious, he had been inspired by the work of churches, mosques, gurdwaras and other groups who had helped those in need.
"They have looked at the situation and their response has been based just on kindness," he said.
In 2009, the Hope Fund was set up by the Bishop of Coventry, the city's mayor and the refugee centre "to assist destitute asylum seekers".
Residents donate money for food and other goods to help those in hardship.
'No safety net'
Meanwhile, cash and carry firm Costco provides food which is near its sell-by date to needy people in the city. The charity Carriers of Hope runs a free shop which provides food and toiletries.
Another charity provides a night shelter for about 15 refused asylum seekers.
Penny Walker, who co-ordinates the night shelter, estimated there were about 1,000 refused asylum seekers in Coventry who had become "invisible".
"People assume there is a safety net but there just isn't," she said.
The UK Border Agency (UKBA) said it took its "international responsibilities seriously" and had a "proud history" of providing refuge to those in need.
Hugh Ind, of the UKBA, said: "We do provide financial support while claims are being dealt with, and no asylum seeker need be destitute while they have a valid reason to be here.
"But we strongly believe that funding those who have found not to be in need of protection would act as an incentive to frustrate the system and stay in the UK.
"We are committed to ensuring asylum cases are concluded faster, at lower cost, and we continue to improve the quality of our decision making."