Pfizer's proud history in Sandwich in east Kent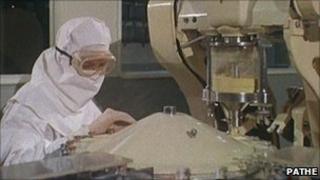 Pharmaceutical giant Pfizer has been a success story in the east Kent town of Sandwich for more than 50 years.
The US-based firm opened its first UK site in Folkestone in 1952, and two years later opened a second, larger operation in Sandwich.
The plant was built on a derelict 80-acre site alongside the River Stour just outside the historic town.
The firm enjoyed success as a chemical manufacturer but soon moved into the pharmaceutical industry.
By 1960, the company employed more than 2,000 people and had consolidated its Kent operations at the one Sandwich site.
Famous breakthrough
The plant continued to grow, with scientists developing drugs to tackle diseases including diabetes, angina and polio.
By the end of the decade, its products ranged from pills to perfume, and petrochemicals to pet products.
Throughout the 1980s, Pfizer returned to its core pharmaceutical business at Sandwich.
The plant became the largest research operation of any American pharmaceutical company outside of the United States.
Successes during this period included drugs for the treatment of hypertension and rheumatism.
The future continued to look bright into the 1990s when the Sandwich facility took on 650 more research staff and bought many more products to the market.
Scientists were praised for their work on an oral HIV medicine and a drug used to treat patients with weakened immune systems.
Lucrative drugs
The period also saw its most famous breakthrough - the discovery and development of Viagra, used in the treatment of erectile dysfunction.
However, in recent years, the Sandwich site has been hit with redundancies.
The company also announced a drop in profits as patents on several of its most lucrative drugs expired.
Between 2003 and 2005, more than 310 jobs were axed as part of restructuring although the firm insisted it was still committed to the town.
The following year, it closed its manufacturing operations at the site, leaving just a research and development department.
It also announced plans to relocate its veterinary medicine discovery unit from Sandwich to Michigan in the United States.
Fears were raised last year when Pfizer announced plans to cut more than 6,000 jobs worldwide, almost a fifth of its workforce.
Those fears were realised on Tuesday, when Sandwich's biggest employer announced the end of its 54-year association with the town.